sponsored by
| | | |
| --- | --- | --- |
| | | OSdata.com |
AmigaOS


summary
AmigaOS is an old but popular operating system that is being resurrected.
The Amiga computer was a landmark computer of the 1980s, the first personal computer capable of true multimedia work. In 1982, Jay Miner and Dave Morris left Atari to co-found Hi-Toro. Miner was the designer of the Atari VCS (2600), Atari 400, and Atari 800. In 1983, Hi-Toro was renamed Amiga. In 1985, Commodore International purchased the company and released the Amiga 1000.m8a
The Amiga 1000 used the same Motorola 68000 processor as the Macintosh, but also had a famous set of support chips to handle graphics, sound, and other activities, freeing up the main processor from these tasks. At the time, the IBM PC could only display 16 colors and produce beeps and simple tones, but the Amiga displayed 4,096 colors and produced home stereo quality four channel sound. In the late 1980s and early 1990s, the Amiga became very popular for professional video, graphics, and multimedia work, as well as being a popular home gaming platform.
The AmigaOS was also the most advanced operating system available on personal computers, offering both a sophisticated command line interface and a sophisticated graphic user interface, as well as multitasking and other capabilities traditional in the mainframe world.
OSdata.com is used in more than 300 colleges and universities around the world
Find out how to get similar high web traffic and search engine placement.
Kind of OS: proprietarye73
Maximum Number of Processors: two (one 68060 and one PowerPC)e95
Kernel: proprietary
POSIX: supported with free system library extensions (ixemul)e95
Peripherals: BUS: Zorro 1/2 & 3. ISA and PCI by 3rd party hardware/software.e95
Graphics Engine: Intuitione95
Text Command Shell: AmigaDOS CLIe95
Graphic Command Shell: Amiga WorkBenche95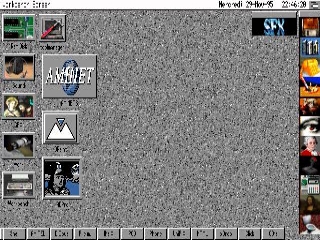 click on the preview image for a larger version
screen shot courtesy of Pat Gunn's Operating Systemsw59
Other:
references
further reading: books: introductory
Amiga for Beginners; by Christian Spanik; Abacus Software; January 1988; ISBN 1557550212; Paperback; $16.95
Amiga Intern; by Maelger Stefan; Abacus Software; May 1992; ISBN 1557551480; Paperback; $39.95
Amiga System: An Introduction; by Bill Donald; Precision Software; June 1986; ISBN 1852310014; Hardcover; $10.80
Amiga Printers: Inside and Out; by Ralf Ockenfelds; Abacus Software; December 1990; ISBN 1557550875; Hardcover (with disk); $34.95
---
humor
"Never EVER mess with a jumper you don't know about, even if it's labeled 'sex and free beer'." —Dave Haynie, Amiga developer
OSdata.com is used in more than 300 colleges and universities around the world
---
A web site on dozens of operating systems simply can't be maintained by one person. This is a cooperative effort. If you spot an error in fact, grammar, syntax, or spelling, or a broken link, or have additional information, commentary, or constructive criticism, please e-mail Milo. If you have any extra copies of docs, manuals, or other materials that can assist in accuracy and completeness, please send them to Milo, PO Box 1361, Tustin, CA, USA, 92781.
If you have an extra or unwanted copy of any official manuals or documentation on this operating system, please send them to: Milo, POB 1361, Tustin, CA 92781, USA. I have the following items: NONE.
Note: I am looking for a fan of the Amiga who has the time to check this web site for completeness and accuracy regarding the Amiga. Just check through the site about once a week or so and report back with any information (including the URL of the web page you are reporting).
Click here for our privacy policy.
---
Click here to skip over the summaries of individual operating systems.
---
peer level
---

This web site handcrafted on Macintosh

computers using Tom Bender's Tex-Edit Plus

and served using FreeBSD

.

---
†UNIX used as a generic term unless specifically used as a trademark (such as in the phrase "UNIX certified"). UNIX is a registered trademark in the United States and other countries, licensed exclusively through X/Open Company Ltd.
Names and logos of various OSs are trademarks of their respective owners.
Copyright © 1998, 1999, 2000, 2001, 2002, 2004 Milo
Last Updated: March 21, 2004
Created: June 22, 1998
Click here to skip over the summaries of individual operating systems.