sponsored by
| | | |
| --- | --- | --- |
| | | OSdata.com |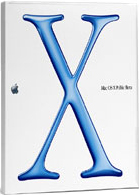 Mac OS X
See also: Macintosh, Rhapsody, Mac OS X Server, and NeXT
summary
Macintosh OS X (ten) is a desktop operating system based on Rhapsody. Macintosh OS X is made by Apple Computer and will run on Motorola/IBM PowerPC.
OSdata.com is used in more than 300 colleges and universities around the world
Find out how to get similar high web traffic and search engine placement.
Macintosh OS X is essentially Rhapsody 3.0 optimized for Apple's PowerPC computers, a high powered UNIX† with the friendly face of the Macintosh.
"Mac OS X is the most important software from Apple since the original Macintosh operating system in 1984 that revolutionized the entire industry. We can't wait for Mac users around the globe to experience its stability, power and elegance." —Steve Jobs, Apple's CEO
"Forget a dual operating system strategy. In his keynote address at Apple's 1998 Worldwide Developer Conference, Steve Jobs, Apple's interim CEO, says all the company's operating system plans are converging into one entity: Mac OS X (10), due next year [it actually arrived three years later].
"Mac OS 8 and Rhapsody will be the "parents" of Mac OS X, due the third quarter of 1999. The best parts of Rhapsody will be integrated into the Mac OS to make it a modern operating system. [NOTE: These dates slipped to first quarter 2001.]
"Mac OS X will be targeted for G3 systems and their predecessors; all shipping products will run Mac OS X. It will be 100% PowerPC native; all 68k code will be excised. The upcoming OS is slated to have protected memory, enhanced virtual memory (with no more fixed size heaps), preemptive multitasking, fast networking, and fast file I/O. It will also run Mac OS 8 compatible applications transparently [it ended up running Mac OS 9 applications that were updated to Carbon and didn't involve access to hardware]." —Dennis Sellers, "The X-Files: Rhapsody, Allegro + Sonata = Mac OS 10"e30
"Mac OS X the biggest leap in the Mac OS since 1984, bringing it into new territory, but bringing all of us and current applications with it." —Steve Jobse30

Kind of OS: proprietary BSD (Berkeley Software Distribution) UNIX†
"Under the appealing, easy-to-use interface is a rock-solid foundation — an industrial-strength core OS engineered for stability, reliability, and phenomenal performance." — Apple Computerw56

Much of the underpinnings of Mac OS X (MACH, FreeBSD, etc.) are open source projects.
"The open source community helped bring you the core OS. Feel free to pitch in and contribute your programming talents." — Apple Computerw56
"After protests that Apple was illegally violating the open source requirement to make available their enhancements, Apple finally released those underpinnings as Darwin, while continueing to keep higher level components a proprietary secret (and compounding their lack of ethics by falsely claiming that they were making their operating system open source while only making a small part open source) and simultaneously releasing the open source portions with a highly restrictive license that includes the option for Apple to revoke permission to use the code at any time at any whim, going against the very meaning of open source." —a developer who requested his name be kept private
Current Version: X (10.1.2)
Cost: $129
Mac OS X ships with 7 languages (English, Japanese, French, German, Spanish, Italian, and Dutch) included on a single CD.
Hardware Supported: IBM/Motorola PowerPC G3 and G4
Maximum Number of Processors: 32e125
Kernel: MACHe75 (microkernel)
Other Systems Emulated: MS-DOS (with third party Virtual PC), Windows 3.1 (with third party Virtual PC), Windows 95 (with third party Virtual PC or SoftWindows95), Windows 98 (with third party Virtual PC or SoftWindows98)
Text Command Shell: UNIX shells (default shell is tcsh, ships with precompiled copies of sh, csh, tcsh, and zsh)
Graphic Command Shell: Finder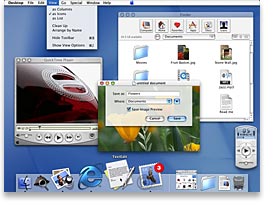 "With Mac OS X featuring numerous advances, it's the job of the new Finder to ease your transition to the next level of computing. Navigating your Mac and the Internet has never been easier." —Apple Computerw56
| | | |
| --- | --- | --- |
| | | |
| controls in window title bar | | a window opening |
Bundled Software: iMovie™ 2 (low end digital video editing software); iTunes (low end consumer jukebox software for managing music files); most of the open source UNIX tools needed for commercial server operation
Other:
"From the WWDC98 charts, Mac OS X 's CoreOS is essentially a Mach system kernel (mk7.x + other advancements) with a POSIX-like system interface very similar to *BSD-lite servers (which includes sockets), IOKit, VFS file system interface (a BSD 4.4 thing), and AppleTalk." —Tuan Truonge49
"Macs have many advantages: ease of use, integration of OS and hardware, reliability, overall lower cost of ownership over the life of the machine, and, of course, style." —Why Monopolies Are Bad, by Jeff Adkinsw77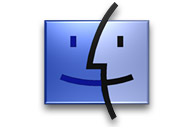 references
---
Also see the summary at Macintosh.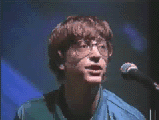 1.1 MB QuickTime movie of Bill Gates explaining why he thinks the Macintosh is the best operating system.
OSdata.com is used in more than 300 colleges and universities around the world
---
A web site on dozens of operating systems simply can't be maintained by one person. This is a cooperative effort. If you spot an error in fact, grammar, syntax, or spelling, or a broken link, or have additional information, commentary, or constructive criticism, please e-mail Milo. If you have any extra copies of docs, manuals, or other materials that can assist in accuracy and completeness, please send them to Milo, PO Box 1361, Tustin, CA, USA, 92781.
If you have an extra or unwanted copy of any official manuals or documentation on this operating system, please send them to: Milo, POB 1361, Tustin, CA 92781, USA. I have the following items: NONE.
Note: I am looking for a fan of Mac OS X who has the time to check this web site for completeness and accuracy regarding Mac OS X. Just check through the site about once a week or so and report back with any information (including the URL of the web page you are reporting).

Click here for our privacy policy.
---
Click here to skip over the summaries of individual operating systems.
---
peer level
---

This web site handcrafted on Macintosh

computers using Tom Bender's Tex-Edit Plus

and served using FreeBSD

.

---
†UNIX used as a generic term unless specifically used as a trademark (such as in the phrase "UNIX certified"). UNIX is a registered trademark in the United States and other countries, licensed exclusively through X/Open Company Ltd.
Names and logos of various OSs are trademarks of their respective owners.
Copyright © 1998, 1999, 2000, 2001, 2002 Milo
Last Updated: March 20, 2002
Created: June 22, 1998
Click here to skip over the summaries of individual operating systems.